Profiel
Robert Rauschenberg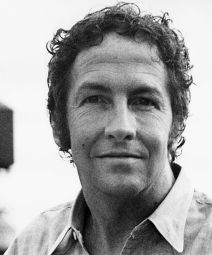 For English version please scroll down

Der amerikanische Maler, Graphiker, Fotograf und Objektkünstler Robert Rauschenberg (1925–2008) zählte mit seinen frühen Werken zu den Wegbereitern der Pop Art. Geboren in Port Arthur, Texas, besuchte Robert Rauschenberg das Black Mountain College bei Asheville, North Carolina, sowie die Art Students League in New York, wo er künstlerische Beziehungen und Methoden entwickelte, die sich als stilbildend erweisen sollten. Seine fast 60-jährige Karriere war geprägt von einem ebenso respektlosen wie innovativen Umgang mit Bildern, Medien und den verschiedenen Kunstdisziplinen sowie einer besonderen Vorliebe für künstlerische Partnerschaften. 1954 realisierte er sein erstes "Combine Painting" – jene für ihn so typische Kunstform, die etablierte künstlerische Standards und Hierarchien missachtet und Materialien des Alltags in die Malerei und Skulptur integriert. Die Zusammenarbeit mit dem Komponisten John Cage und dem Tänzer und Choreographen Merce Cunningham regte Rauschenberg darüber hinaus zu Arbeiten im performativen Bereich an, darunter Kostüme und Bühnenbilder für die Cunningham und Paul Taylor Dance Companies. Seine Verbindung zum Judson Dance Theater ermöglichte 1963 ihm die Kreation seiner ersten eigenen Choreographie "Pelikan" und führte zu einer intensive Zusammenarbeit mit der Tänzerin und Choreographin Trisha Brown, für deren Werke Rauschenberg Kostüme, Bühnen- und Lightdesigns sowie gelegentlich auch die Musik schuf.

The American painter, graphic artist, photographer and object artist Robert Rauschenberg (1925–2008) anticipated with his early works the pop art movement. Born in Port Arthur, Texas, Robert Rauschenberg attended Black Mountain College near Asheville, North Carolina and the Art Students League in New York where he developed creative relationships and methods that proved to be formative. His almost sixty-year career was characterized by an irreverent and innovative approach to images, mediums, and disciplines and a love for artistic partnerships. Rauschenberg realized his first Combine in 1954, eschewing established artistic boundaries and hierarchies; he introduced the materials of everyday life while combining aspects of painting and sculpture. Collaborations with composer John Cage and dancer/choreographer Merce Cunningham spurred Rauschenberg to add performance to his wide-ranging palette, including costume and set designs for the Cunningham and Paul Taylor dance companies. His affiliation with the Judson Dance Theater allowed Rauschenberg to choreograph his first performance, "Pelican" (1963), and it led to a lifelong collaboration with dancer/choreographer Trisha Brown for whose performances Rauschenberg designed costumes, lighting, sets, and on occasion, music.