Profiel
Uwe Scholz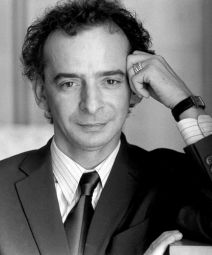 For English version please scroll down

Uwe Scholz, 1958 im hessischen Jugenheim geboren, wurde nach seiner Ausbildung an der John Cranko Schule 1979 Mitglied des Stuttgarter Balletts. Nachdem er bereits während seines Studiums erste Choreographien erarbeitet hatte, ernannte ihn Marcia Haydée 1982 zum ersten Hauschoreographen der Compagnie nach John Crankos Tod. Darüber hinaus war er aber auch als Regieassistent, Opernchoreograph (z.B. "Aida" mit Hans Neuenfels an der Oper Frankfurt), Regisseur sowie für Fernsehproduktionen tätig und begann bald auch für andere Compagnien zu kreieren. 1985 wurde Uwe Scholz im Alter von nur 26 Jahren Ballettdirektor und Chefchoreograph des Balletts Zürich, 1991 übernahm er die Direktion des Leipziger Balletts, das er bis zu seinem frühen Tod im November 2004 leitete. 1993 berief die Hochschule für Musik und Theater Leipzig ihn zum Professor, außerdem gehörte er zu den Gründungsmitgliedern der Freien Akademie der Künste Leipzig. Mit seinem choreographischen Schaffen zählt Uwe Scholz zu den bedeutendsten Weiterdenkern der Tradition des Sinfonischen Balletts wie sie von Künstlern wie Michail Fokine, Léonide Massine und George Balanchine in der ersten Hälfte des 20. Jahrhunderts begründet worden war: eine Übertragung der Klangwelten und Strukturen einer musikalischen Komposition in Tanz, welche Sehen und Hören neu verbindet. Seit 1977 entstanden über 100 Ballette zu Musik vom Barock bis zur Moderne. Seine hohe Musikalität, seine künstlerische Sensibilität sowie eine elegante und stringente Linienführung auch in der Arbeit mit großen Ensembles machten Uwe Scholz weit über die Grenzen Deutschlands hinaus berühmt. Neben den zahlreichen Werken, die er für das Stuttgarter, Zürcher und Leipziger Ballett kreierte, entstanden Uraufführungen u.a. für das Ballett der Scala di Milano, die Ballettensembles der Wiener Staatsoper, Deutschen Oper Berlin, Semperoper Dresden und Oper Frankfurt, das Bayerische Staatsballett, Nederlands Dans Theater, The National Ballet of Canada Toronto, Ballet British Columbia Vancouver, die Ballets de Monte Carlo sowie die Compagnien von Madrid, Zaragoza, Santiago de Chile, Zagreb, das Testimonium Festival in Israel und das Henze Festival Montepulciano. Zu Uwe Scholz' Hauptwerken zählen "Die Schöpfung" (Haydn), "Die Große Messe" (Mozart), "Pax Questuosa" (Udo Zimmermann), "Symphonie Fantastique" (Berlioz), "Rot und Schwarz" (Stendhal / Berlioz), "Siebte Sinfonie" (Beethoven), "Bruckners Achte Sinfonie", "Bach-Kreationen" sowie Interpretationen von Werken Pergolesis, Mozarts, Schumanns und Prokofjews. Zu seinen letzten großen Arbeiten zählen "Le Sacre du Printemps" in einer spektakulären Leipziger Doppelversion von Strawinskys Fassungen für Klavier und Orchester sowie "Scholz Notizen I". Weitere Abende unter dem Titel "Notizen II" und "Notizen III" sowie Choreographien zu Wagners "Ring des Nibelungen" waren geplant, konnten jedoch nicht mehr realisiert werden. Zu den Preisen, mit denen Uwe Scholz ausgezeichnet wurde, zählen der Omaggio Alla Danza (1987), das Bundesverdienstkreuz (1996), der Theaterpreis der Bayerischen Staatsregierung in der Sparte Tanz (1998) sowie der Deutsche Tanzpreis (1999). Nachdem das Ballett der Deutschen Oper am Rhein 1989 mit der Uraufführung "Wagner" erstmals ein Werk von Uwe Scholz zeigte, gefolgt von "Tausend Grüße" (1991) sowie "2. Symphonie" und "Symphonie Fantastique" (2003), sind mit "Notations I–IV" sowie "Siebte Sinfonie" 2020 nun zwei weitere zentrale Werke des bedeutenden deutschen Choreographen im Opernhaus Düsseldorf und Theater Duisburg zu erleben.

Uwe Scholz was born in Jugenheim in Hessen in 1958 and joined Stuttgart Ballet in 1979 after training at the John Cranko Schule. After choreographing his first pieces while still a student, Marcia Haydée named him as the company's Resident Choreographer in 1982 following John Cranko's death. He also worked as an assistant director, opera choreographer (e.g. "Aida" with Hans Neuenfels at Frankfurt Opera), director and for television and soon also began to create work for other companies. In 1985 at the age of only 26 Uwe Scholz became Ballet Director and Principal Choreographer of Zürich Ballet and in 1991 he took over as Director of Leipzig Ballet, which he ran until his premature death in November 2004. In 1993 he was appointed as a professor at the University of Music and Theatre Leipzig and he was a founder member of Leipzig's Free Academy of the Arts. With his choreographic works Uwe Scholz was one of the leading thinkers responsible for extending the tradition of symphonic ballet that was founded in the first half of the 20th century by artists such as Michail Fokine, Léonide Massine and George Balanchine: a transposition of the sound worlds and structures of a musical composition into dance, combining sight and hearing in a fresh way. From 1977 onwards he created over 100 ballets to music that ranged from the baroque to the modern. His considerable musicality, his artistic sensibility and an elegant, strict control of line even in work with large ensembles made Uwe Scholz famous far beyond Germany. In addition to the numerous works he created for the Stuttgart, Zürich and Leipzig ballet companies, he also produced world premieres for the ballet of Scala di Milano, and the ballet companies of the Vienna State Opera, the Deutsche Oper Berlin, Semperoper Dresden and Frankfurt Opera, the Bavarian State Ballet, Nederlands Dans Theater, The National Ballet of Canada Toronto, Ballet British Columbia Vancouver, the Ballets de Monte Carlo as well as the companies in Madrid, Zaragoza, Santiago de Chile, Zagreb, the Testimonium Festival in Israel and the Henze Festival Montepulciano. Uwe Scholz's major works included "The Creation" (Haydn), "The Great Mass" (Mozart), "Pax Questuosa" (Udo Zimmermann), "Symphonie Fantastique" (Berlioz), "Scarlet and Black" (Stendhal / Berlioz), "Seventh Symphony" (Beethoven), "Bruckner's Eighth Symphony", "Bach Creations" and interpretations of works by Pergolesi, Mozart, Schumann and Prokofiev. His last great works include pieces such as "Le Sacre du Printemps", in a spectacular double version in Leipzig with Stravinsky's versions for piano and orchestra, and "Scholz Notizen I". Further performances were planned entitled "Notizen II" and "Notizen III" along with a choreography of Wagner's "Ring des Nibelungen" but these could not be realised. The prizes awarded to Uwe Scholz included the Omaggio Alla Danza (1987), the Order of Merit of the Federal Republic of Germany (1996), the Bavarian State Government's Theatre Prize for Dance (1998) and the German Dance Prize (1999). After the Deutsche Oper am Rhein ballet company first presented a work by Uwe Scholz in 1989 with the world premiere of "Wagner", followed by "Thousand Greetings" (1991) and "2nd Symphony" and "Symphonie Fantastique" (2003), with "Notations I–IV" and "Seventh Symphony" two more key works by this leading German choreographer may now be seen once again at Opernhaus Düsseldorf and Theater Duisburg in 2020.
Homepage
www.scholz-choreo.com