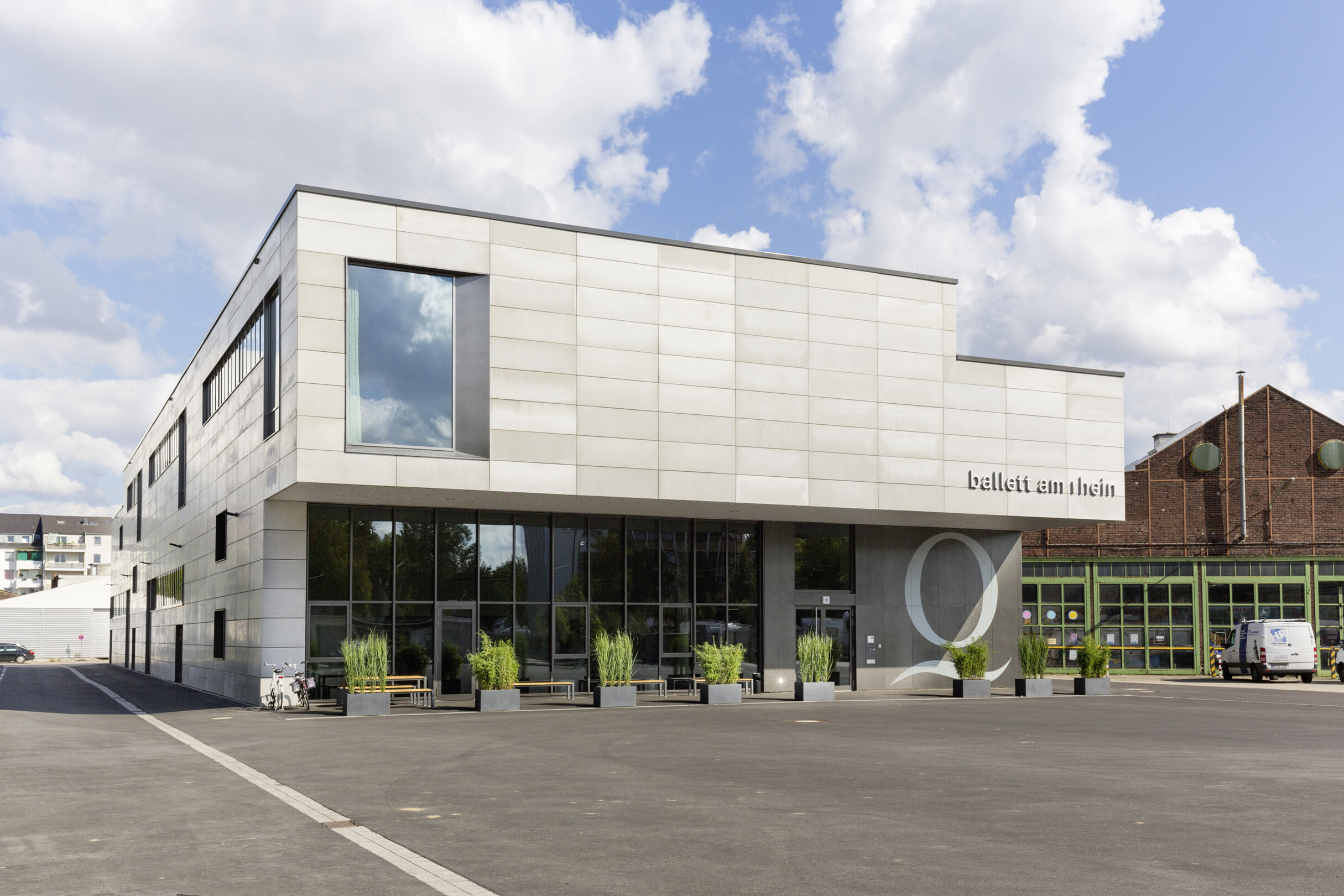 Since the beginning of the 2015/16 season, the Ballett am Rhein has been training and rehearsing in the Balletthaus, built especially for the ballet, in Düsseldorf-Bilk in the direct vicinity of the historic Rheinbahn depot "Am Steinberg".

Through a "Public Private Partnership (PPP)" between the city of Düsseldorf and the company HOCHTIEF, the building designed by the architects Gerkan und Marg & Partner was completed in only 10 months. The company began its work there on 03.07.2015.

The state-of-the-art training facility offers the team, the 45 dancers of the company, and the children of the four ballet classes ca. 3,000m² of floor space, including five extensively equipped ballet studios, dressing rooms, offices, break rooms, and a rehabilitation and therapy area.

Studio 1 is equipped with a total of 112 seats, including two wheelchair spaces, for outreach events. Blackout curtains hanging from an overhead track system and theatrical lighting equipment allow the studio to be quickly transformed into a black box theatre.
Things to know for your visit
Merowingerstraße 88
D-40225 Düsseldorf

By bus and rail
Get off at "Merowingerstraße"
Bus: 835, 836
Get off at "Am Steinberg"
Straßenbahn: 701, 706
The Balletthaus is approximately 10 minutes' walk from S-Bahn "Bilk S".

Parking
There is a large car park in front of the Ballet House. Guests of the Ballet House may use the parking spaces on the western and northern sides (left after the entrance) of the square.
Parking for people with disabilities
There is a car park for people with disabilities in the car park in front of the Ballet House.
Our guests are requested NOT to use the parking spaces directly in front of the historic Rheinbahn depot "Am Steinberg".
The Ballet House is a state-of-the-art, barrier-free building.

Access for mobility-impaired visitors
The entrance to the Ballet House as well as the entrances to all ballet halls and other rooms of the building are accessible for wheelchair users. The Ballet House has a lift.

Disabled toilets
A disabled toilet is located to the left of the entrance in the Ballet House lounge.

Seats for wheelchair users and escorts
There are seats for wheelchair users in Studio 1. These seats can be arranged quickly and easily without prior notice.