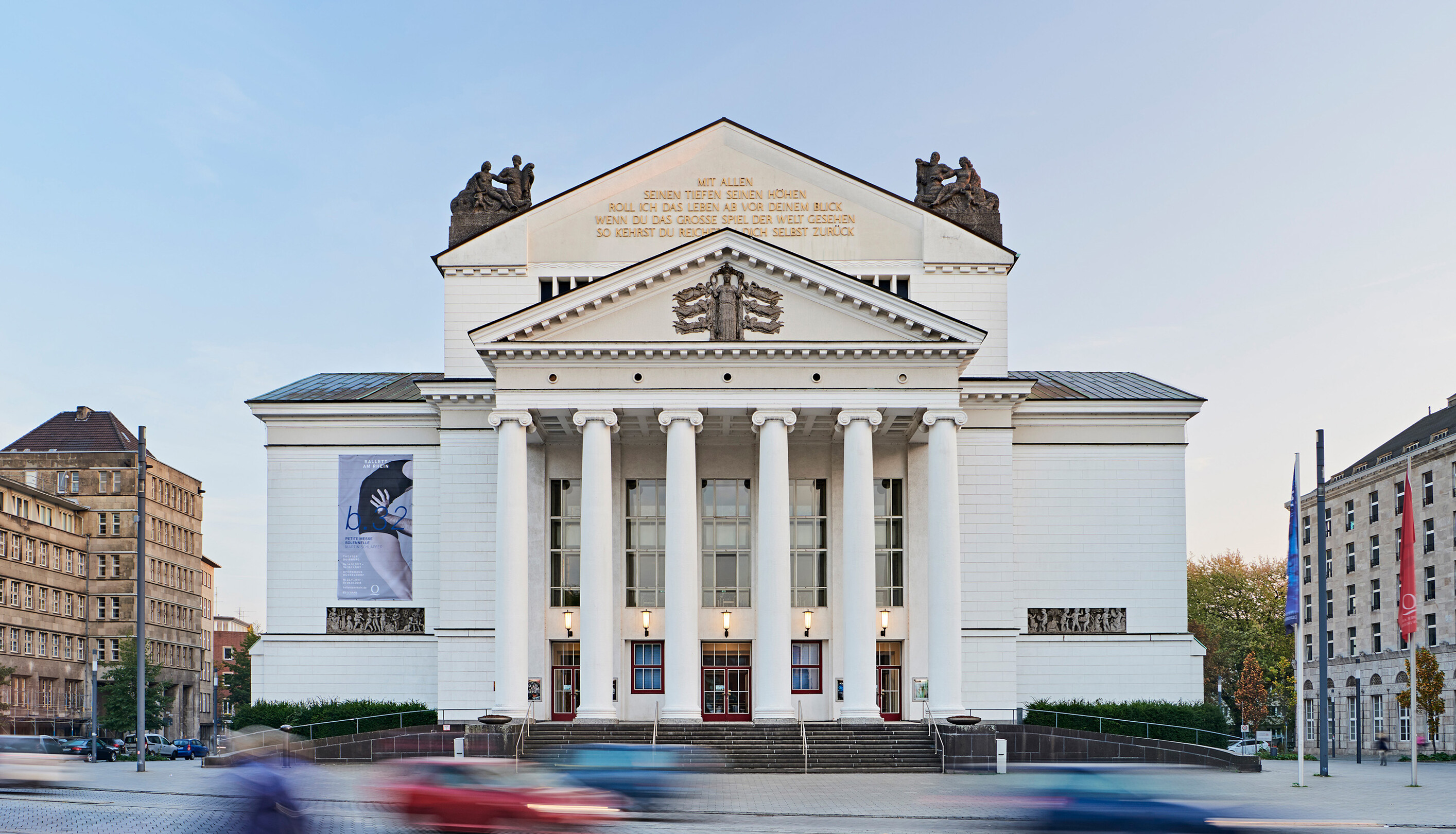 With its central location on Opernplatz, just a few steps away from Königstraße, the theatre is one of the most distinctive buildings in the city of Duisburg. Its gleaming white front is reminiscent of an ancient temple.
Read more
Resting on six Ionian pillars, the triangular gable is inscribed with a quotation by Friedrich Schiller from his 'Homage to the Arts':

Mit allen seinen Tiefen seinen Höhen
Roll ich das Leben ab vor deinem Blick,
Wenn du das große Spiel der Welt gesehen
So kehrst du reicher in dich selbst zurück

(With all its lows and its highs
I roll life out before your eyes.
Once you have seen the world's great game
You will find yourself enriched again.)


Prof. Martin Dülfer was the architect of Theater Duisburg, which opened in 1912. It presented a repertoire of opera and theatre productions by various different ensembles before it was destroyed in an air raid in 1942, immediately after a performance of 'Tannhäuser'. The next performance in the rebuilt theatre did not take place until 1950.
The auditorium was reconfigured and renovated in 1970 and it now has seats for 1,118 visitors. Smaller performances and concerts are also held in the opera foyer, a popular place to meet in the interval with a 1950s flavour. There is also space for less conventional theatre productions in Foyer III, underneath the roof of the building.
The Deutsche Oper am Rhein presents around 80 opera and ballet productions per season on the main stage. This is supplemented by numerous guest performances by theatres from North Rhine-Westphalia and the cultural festival 'Duisburger Akzente'. The Duisburger Philharmoniker also performs concerts in the building opposite, the Philharmonie Mercatorhalle.


Things to know for your visit
Opernplatz
47051 Duisburg
By bus and rail
Get off at "König-Heinrich-Platz"
U-Bahn: U79, tram: 901, 903
Get off at "Stadttheater"
Bus: 933
The theatre is approximately 10 minutes' walk from Duisburg main station (Hauptbahnhof).
Combination bus and rail ticket
Our tickets are also valid as permits for travel (this does not apply to Print@home tickets) to and from the theatre on the day of the performance using the entire VRR network – for more details:
www.vrr.de
Live departure monitors
After the show, conveniently check when the next train, subway or bus is leaving:
Duisburg main station
(DB, subway, bus)
König-Heinrich-Platz
(subway)
By car
Follow the signs for the city centre (Zentrum) and Stadttheater / Mercatorhalle.
Parking
The car parks König-Heinrich-Platz and City Palais are located nearby and offer flat rate evening / event tariffs.
Theater Duisburg is a historic building with limited accessibility. Since the inclusion of all visitors is close to our hearts, we strive to create the best possible access for everyone.

Our box office staff and the service personnel in the theater will be happy to answer any questions you may have regarding access to our theaters.

We would be pleased if you could give us valuable advice on how we can improve through your experiences:
Discounts
Severely disabled persons with a GdB of 70 or more and an accompanying person (if letter B is noted on the disabled person's ID card) receive a reduction of around 50% on the price of a one-way ticket.
Parking spaces for people with disabilities
Two parking spaces for people with disabilities are located in Moselstraße (to the left of the theater).
Access for visitors with limited mobility
The entrance foyer of the theater is accessible without steps via wide ramps (incline 11.5%) to the left and right of the portal.
Unfortunately, the building does not currently have an elevator due to historical structural conditions.
All stairs in the foyer have handrails.
The parquet foyer is accessible from the entrance foyer via five steps with handrails on the left or right. Our staff will be happy to assist you with this. If you are unable to climb the steps, you can borrow a wheelchair from us for the stair lift.
Wheelchair users can access the stalls via a stair lift (dimensions: 0.75 x 0.95 meters; maximum backrest height: 1.2 meters; maximum load: 225 kg). Please contact the staff members on the left in the entrance foyer at the program booklet counter or in the stalls foyer on the left, who will operate the lift for you. Unfortunately, the lift is not suitable for walkers.
Due to fire safety regulations, it is unfortunately not permitted to take rollators into the auditorium. Our staff will be happy to take care of your walker in front of the auditorium doors, help you to your seat if you wish, and keep your walker ready for you during the intermission or after the performance.
The auditorium in the stalls has no steps and is slightly sloped. Due to historical structural conditions, the auditorium has steps in the tiers that must be negotiated without railings.
The 1st and 2nd tiers, the opera foyer and FOYER III are
not accessible without barriers
, but are only accessible via stairs.
Handicapped accessible toilets
A handicapped accessible toilet is located in the entrance foyer on the left.
Seats for wheelchair users and escorts
In the Great Hall, there are two wheelchair spaces in the stalls in rows 3 and 12, and three additional wheelchair spaces will be arranged if needed. To ensure that these seats are not inadvertently booked by non-wheelchair users, they cannot be booked online, but only by telephone or directly at the theater box office.
Recommended seating for visitors with limited mobility
In the main auditorium, all seats at the edge of the stalls are easily accessible for visitors with limited mobility and are therefore recommended for booking.
Companion Dogs
Companion dogs are permitted by prior arrangement. In order to be able to provide you with suitable seats, please book by telephone or directly at the theater box office and discuss your request with our staff*.
Food & drink during intermission
Since our catering counters are not barrier-free accessible during intermission, our caterer Frank Schwarz Gastro offers service in the ambulatory by appointment. Please feel free to contact the FSGG team in advance:
Mon-Fri: 9 a.m.-5 p.m.
Phone: 0203 45 03 90
E-mail:
m.wrobel@fsgg.de
Our caterer (FSGG) offers a selection of drinks and small dishes before the performance and during the breaks.
Would you like to reserve a table in advance? Please contact the FSGG team:
Mon - Fri: 9am - 5pm.
Tel.:
0203 45 03 90
E-Mail:
m.wrobel@fsgg.de
Please note that you must confirm your table reservation with our service team in the opera foyer on the 1st floor before the performance. We kindly ask you to pay for the ordered drinks and food in cash, card payment at the catering is not possible.
You can also pre-order drinks or finger food plates for the interval from one hour before the performance: We will be happy to take your order in the opera foyer. If you pre-order food, a fixed table will also be reserved for you for the interval, subject to availability.
Our catering partner at the Theater Duisburg:
Frank Schwarz Gastro Group GmbH
www.fsgg.de
New here or haven't been for a long time?
It's not every day that you go to the opera. So you might ask yourself a question or two before you go – here are a few answers from us.